Mimaki UJF-6042
UJF-6042 A2 Format UV LED Flatbed Printer
Building on the success of the UJF-3042 series, the Mimaki UJF-6042 offers all the benefits of the smaller UJF-3042 in a larger A2 format version with even greater versatility and spectacular photo-quality print reproduction onto an almost limitless range of materials, objects and substrates. UJF-6042, with its larger print area opens up a whole new world of possibilities for the end-user in the higher volume production market, where even higher quality is demanded.
UJF-6042 Series delivers •••
Outstanding print quality of up to 1800 x 1800 dpi
A2 size flatbed for a wider range of media
Direct printing on subtrates up to 150 mm thick
l
Energy saving eco-friendly LED UV curing
Multiple ink options, including white ink, clear varnish, and inkjet primer
Special applications, e.g. 3D lenticular and unique textures on metals
Special Offer
Prices for the Mimaki UJF range start from £14,995 – call GPT for more info.
Kebab option: 360-degree direct printing on cylindrical products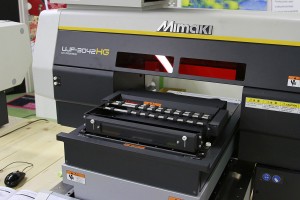 Using the rotary rollers, the Kebab option rotates the object, allowing UJF-3042HG and UJF-6042 to print on the entire surface of the cylindrical item
The Kebab option delivers •••
360-degree direct printing on cylindrical products
Printing on a wide range of material sizes
Easy mounting on the UJF-3042HG and UJF-6042
User-friendly print settings and functions
Intuitive and user‑friendly operation
Price:
Call today for best price – Inc. 1 year gold warranty
Call for a specific quote 01189 294429.
Finance or rental terms upon request.