Mimaki UJF-3042HG
UJF-3042 Desktop Size UV LED Flatbed Printer
The UJF-3042 series providing a unique solution for short runs and on-demand printing. The printers offer unrivalled versatility and high quality print reproduction on an almost unbelievable range of materials, products and substrates. With its compact desktop format the UJF-3042 series offers unlimited possibilities to the end user.
UJF-3042 Series delivers •••
Outstanding print quality and reliability
Space-saving compact desktop design
Direct printing on substrates up to 50 mm thick (FX model) and 150 mm (HG model)
Simultaneous printing of colour and white
White ink and clear varnish
Automatic primer application function
HG Model features additional two print channels for 6-colour printing plus white and clear inks
Special Offer
Prices for the Mimaki UJF range start from £14,995 – call GPT for more info.
Kebab option: 360-degree direct printing on cylindrical products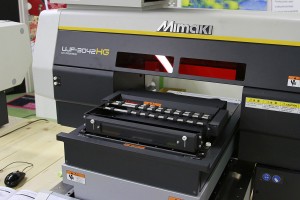 Using the rotary rollers, the Kebab option rotates the object, allowing UJF-3042HG to print on the entire surface of the cylindrical item
The Kebab option delivers •••
360-degree direct printing on cylindrical products
Printing on a wide range of material sizes
Easy mounting on the UJF-3042HG and UJF-6042
User-friendly print settings and functions
Intuitive and user‑friendly operation
Price:
Call today for best price – Inc. 1 year gold warranty
Call for a specific quote 01189 294429.
Finance or rental terms upon request.